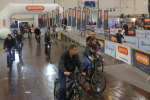 The new test circuit with ramp will be located to the left of the main entrance to the PVA Exhibition Center in Letnany.
It will be possible to test newest ebikes for the 2018 season by the best-selling brands on the Czech market: Leader Fox, Apache, Crussis, Giant and LIV, Author and Agogs. The partners of this Test track is the largest manufacturer of ebike motors and accessories - Bafang and ExtraEnergy Services.
Deputy organizer ekolo.cz - Jakub Ditrich says: "The popularity of electric bicycles is enormous. Just last year, sales in the Czech Republic increased by 30% and this year we expect an even greater public interest. That's why we have decided to relieve the overloaded internal ebike test track, and we are thankful to fair organizer - ABF's for helpfulness and the possibility of outdoor test parkour."
The test e-track at FOR BIKES offers the possibility to test and compare 35 models of field and trekking – commuting electric bikes in the price range of CZK 25-50,000 with both center and hub engines. If you are interested in buying a particular tested electric bike, it will be possible to choose the right height of the frame and equipment right away on site. Ekolo.cz will then ensure delivery of a completely assembled and tuned ebike straight to the customers home.
The fair discount offered by ekolo.cz will be at least 10% and sometimes even more than the standard model sale price.